Discover webEM !
A web portal for the Electron Microscopy and Microanalysis Community to further promote recent advances in microscopy and nanotechnology, especially live interactive Remote Access Microscopy. Go on a fantastic voyage of discovery from the comfort of your own home, schoolroom, research station or boardroom, using only your favourite web browser.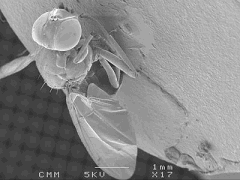 A large number of individual images of a number of unique specimens have been linked in web browser based Scanning Electron Microscopy explorations.
Select one of the images below to begin an exploration, or click on the relevant link to the left in the NAV MENU.