STEP 5 – LOGIN WITH THE VIEWER SOFTWARE
1. Open the Firestorm Viewer Application Software.
You should see the following opening screen or similar depending on the current version:
2. Log In
Enter your registered Username and Password – in the Log-In Panel – at the bottom of the Firestorm Viewer:
Warning: DO NOT click on "Create an account" or "Forgot Password?" (highlighted in yellow in the image below) as registrations and password resets are done on a separate secure private server.
You may ignore the <Type region name> field.
Make sure your selected Grid is XTALENT and Mode is Firestorm.
Click on the Log In button.
3. Password Reset (if required)
If you forget your password you can reset it with this User Password Reset Page.
4. Landing in-world ……
You should land in-world at the base of the stairs near the gallery's front entrance.
Important: On your first visit, error messages (if they appear) can be ignored as you will materialize out of the cloud before too long. Once you have solidified, you will be able to Right-Mouse Click on your Avatar Image, select "Appearance", then modify your shape and outfit whenever desired.
Note: Occasionally, you may materialize at an underground Secure Entry Portal where further instructions are provided for entry.
5. Open your Chat Window (Ctrl+H)
This is essential as it acts as a communications channel – between users, the system, Administrators and all those in-world. It will also notify you of all sorts of activity, including when your friends are online and when items have been shared with you.
Please Add me (Bush Walker) to your Friends so I can help you get the most out of your visitor experience.
6. Moving & Flying
Single left-mouse-click somewhere in the scene and your avatar will walk to that point if you have configured the viewer as required during STEP 4 – Configure Viewer Software.
Watch the tutorial video below for detailed Moving & Flying maneuvers.
7. Camera View
Mouselook View is used for playing first-person shooter type games. The camera view is that of your avatar's eyes.
Press Esc key (to return focus to your avatar) then scroll your mousewheel to enter Mouselook View.
Press Esc key on your keyboard to leave Mouselook View.
Object View allows you to zoom in on objects by clicking them while holding down the Alt key on your keyboard.
Holding down the Ctrl Key and the Alt key simultaneously allows greater flexibility to explore.
Hit Esc to leave Object View.
Detailed information is provided at: https://wiki.firestormviewer.org/archive:camera_floater_fs645
8. Open your Inventory (Ctrl+I)
Explore what you have in your Inventory, especially contents of the OpenSim Library.
Play items in the Animations Library and Gestures Library to see what happens with your Avatar. Keep the ones you like in your own libraries.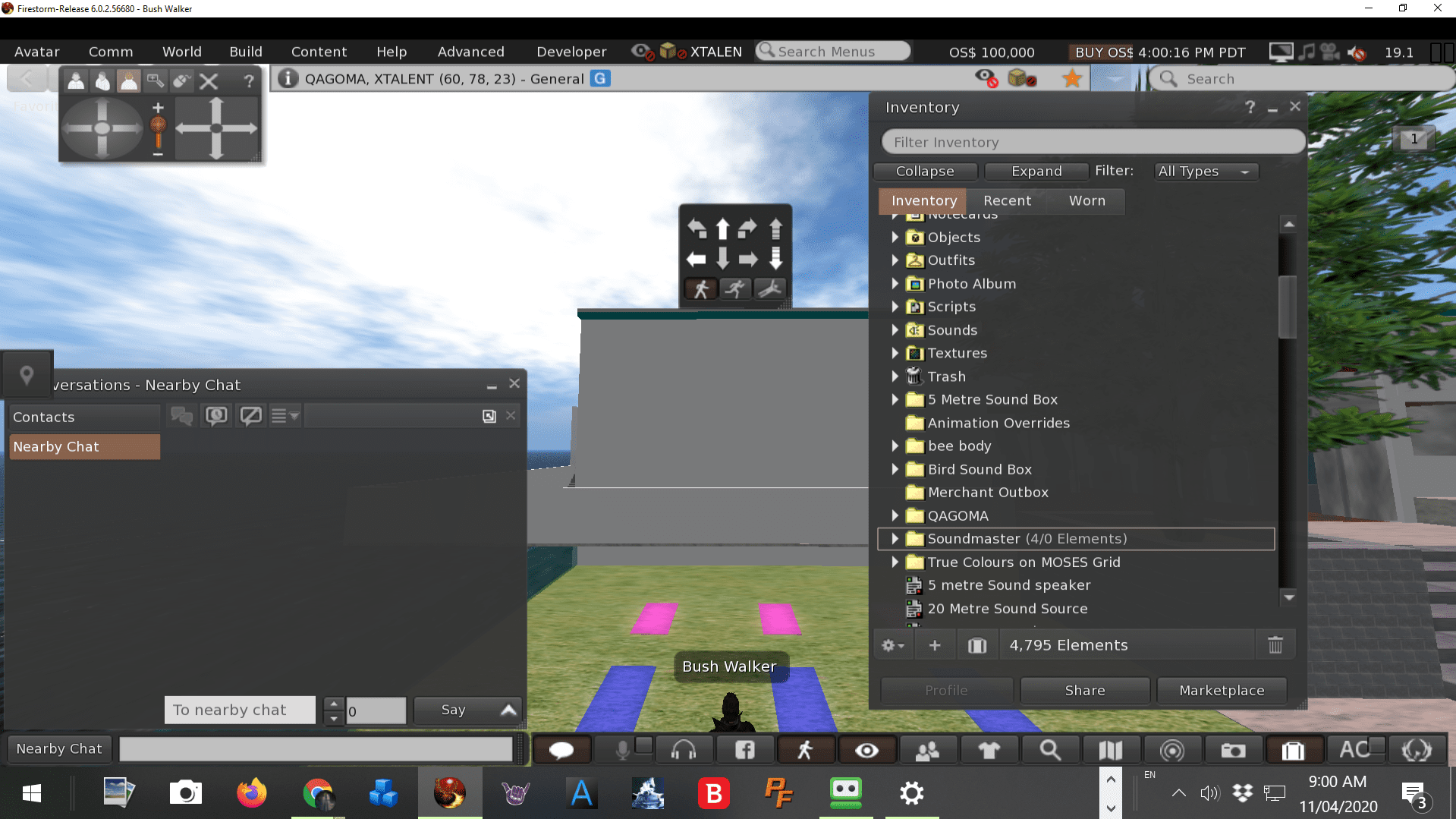 HAVE FUN – BUT ALWAYS Observe Good Netiquette PLEASE – RESPECT EVERYONE
PLEASE REPORT ANY ABUSIVE BEHAVIOUR IMMEDIATELY TO ME AS IT IS NOT TOLERATED ON THIS GRID – NO EXCUSES!!
Problems/Questions/Suggestions/Requests/Complaints?